I have no idea if it was a Chinese movie, but it was Oriental.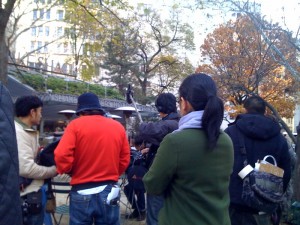 I took that picture at Shake Shack today. I'm probably in the background of some of their shots. They were moving all over.
The last time I was at Shake Shack (one week ago) another movie was being filmed (though not oriental as far as I know).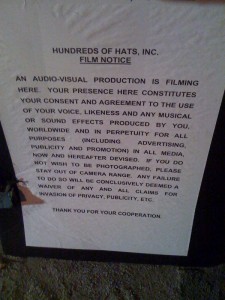 This one was a bit more exciting. Very official. There were crew members everywhere, lighting, cameras, and signs notifying of us that by standing in a line and buying food we would agree to let ourselves be in a Hollywood film. Sweet. While we were in line they filmed a shot of Matt Damon talking to some woman at a table. We were in the background, but no doubt we were very much out of focus. So much for fame.
These expeditions to Shake Shack were not only for the goodness of good food (like the "pumpkin pie oh-my!" custard shake (with a slice of pumpkin pie mixed in!)), but rather to celebrate–or rather mourn–the departure of our friend Lydia. She's leaving New York City tomorrow morning. We are sad, but at least we got to eat at Shake Shack together before she left. Twice.