My friend Lydia asked everyone what they were doing 3 years ago. I'm a fan of history so I thought I'd look into it.
Three years ago…
I had just started a new job. I counted spam and ham. I went to Dallas to visit my friend Adam. While in Texas we drove to Austin and danced like there was no tomorrow at the Austin Lindy Exchange. I drove my truck (something I miss) and played an awesome numbers/math game (not while driving).
My post about the Austin Lindy Exchange contained a map of the states I've been to. I figured it was probably a good time to update that.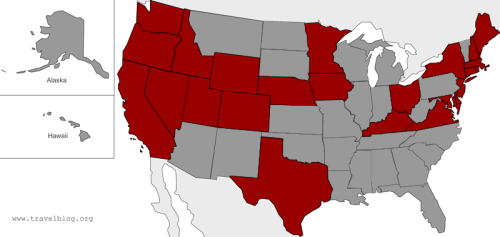 I still haven't been nearly as many places as I'd like (everywhere), but progress is progress.
What were you doing 3 years ago?