Texas is flat! Okay, not all of, but most of what I saw was really flat. And, it was a lot cooler than I thought it was going to be. The weather was nice. The Austin Lindy Exchange was, of course, totally sweet. Great dancing was had by all. I even took a decent amount of pictures, though only of dancing.
On Saturday (the 18th) we went to the Salt Lick BBQ with a group of dancers. Oh wow. The food there is awesome. All the BBQ you could possibly eat. We all got the Family Style menu item and ate till we were sick. It was beautiful. It was a fairly long drive out to the middle of no where, but once there it was well worth the drive.
Also, I have updated my World66 visited states map. I hadn't updated it in quite a while.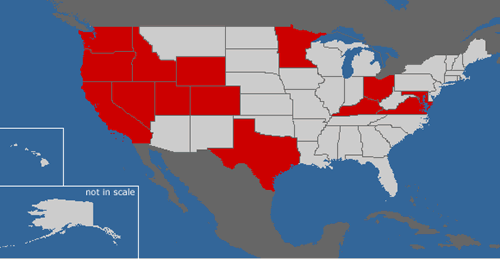 In case you're wondering, I went to Minneapolis, Minnesota back in September for yet another Lindy Hop event (Ultimate Lindy Hop Showdown).