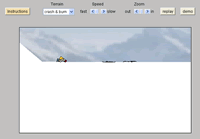 My post regarding the ski stunt simulator java applet that I posted over a year ago remains to this day one of the most often found through search engines. It seems strange that so many people search for it. Not only in the winter, but year round!
Anyway, after recently checking my stats and seeing that it's still so popular, I played the game again. I focused my efforts on the hardest level: Crash & Burn. I am pleased to announce that after only 15 minutes or so I managed to get down to the bottom of the hill.
Here's proof: Watch the video! (.avi format 630 KB)
Nevermind the fact that I got there by putting the speed as fast as it would go and hoping to roll down the whole hill before the little man stopped. Crash & Burn indeed. I crashed, I burned, but I made it! Hey, even the skis made it. Whoo hoo!