My goal for 2017 was to read 25 new books. I managed to read 16.
I could cheat and bring my total to 22 if I include the Harry Potter audiobooks, but my target book count is for books I've never read (or listened to) before.
Here's how my 2017 reading compares to years past: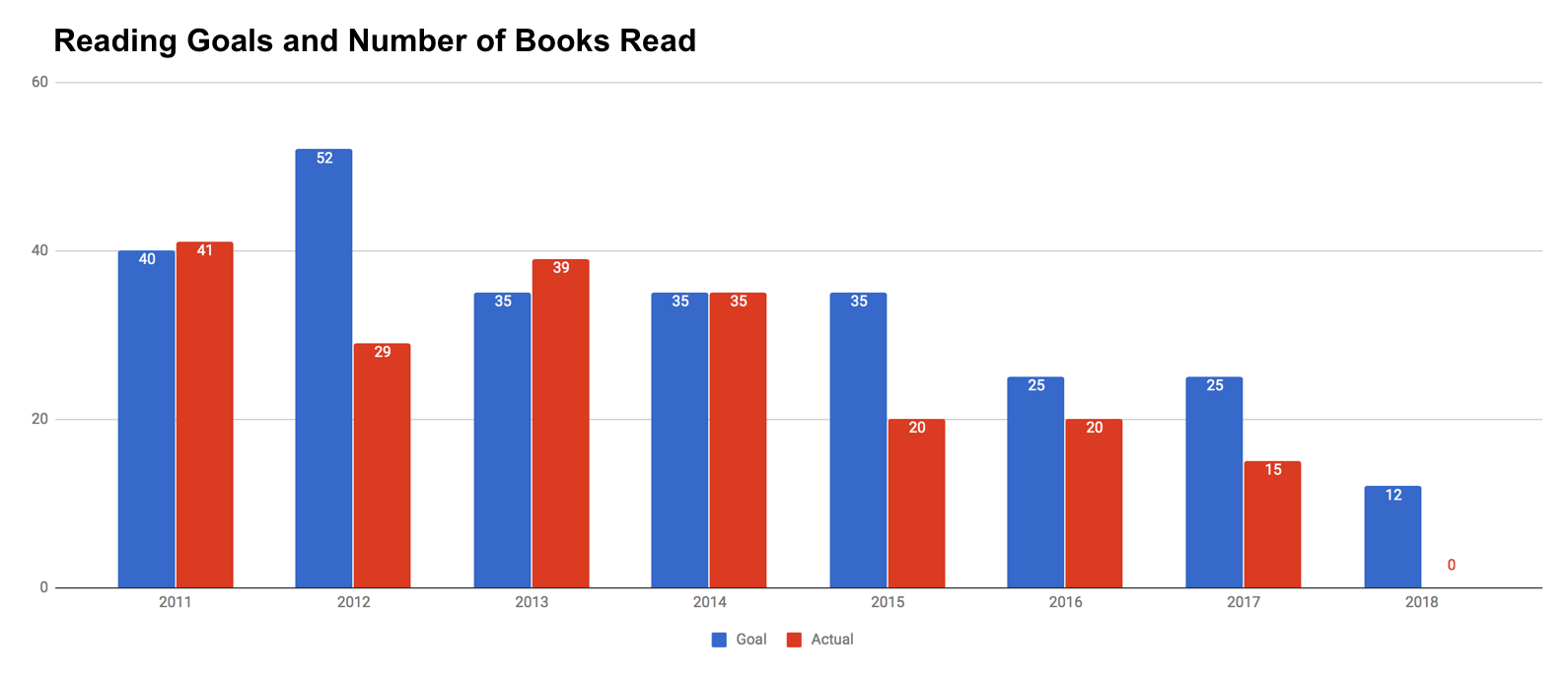 Note: this graph is wrong. I put 15 for 2017 when it was 16 and I don't want to fix it.
After failing to reach my goals in 2015 and 2016 I thought maybe I could push past that 20 book barrier again. After all, I spent many a late night reading while rocking my first born to sleep in 2014 so I figured a second baby would provide a similar opportunity. Nope. She slept like champion for the first 6 months of her life. I got lots of sleep and didn't read at night at all. I have zero complaints about that.
On to 2018!
I'm hoping to read a whopping 12 books this year. I'm planning to read some serious non-fiction books and I always read those more slowly than fantasy and sci-fi. I use reading primarily as a way to relax so I'm not sure how long that'll last.
Anyway, here's the list of books I read in 2017, organized by date read. Here's the same list on Goodreads.
January
Arcanum Unbounded: The Cosmere Collection, by Brandon Sanderson
Uprooted, by Naomi Novik
February
A Darker Shade of Magic (Shades of Magic, #1), by V.E. Schwab
April
A Gathering of Shadows (Shades of Magic, #2), by V.E. Schwab
Ones and Zeroes (Mirador, #2), by Dan Wells
Goldenhand (Abhorsen, #5), by Garth Nix
August
The Long Way to a Small, Angry Planet, by Becky Chambers
September
Age of Swords (The Legends of the First Empire, #2), by Michael J. Sullivan
October
The Caledonian Gambit, by Dan Moren
Red Rising, by Pierce Brown
The Fifth Season (The Broken Earth, #1), by N.K. Jemisin
November
A Hat Full of Sky (Discworld, #32; Tiffany Aching, #2), by Terry Pratchett
Wintersmith (Discworld, #35; Tiffany Aching, #3), by Terry Pratchett Oathbringer (The Stormlight Archive #3), by Brandon Sanderson
December
We Are Legion (We Are Bob) (Bobiverse, #1), by Dennis E. Taylor
I Shall Wear Midnight (Discworld, #38; Tiffany Aching, #4), by Terry Pratchett